With a low tax rate and skilled industrial base, Humphreys County is an ideal location for Advanced Manufacturing; Chemicals, Plastics & Rubber; and Transportation, Distribution & Logistics.
Advanced Manufacturing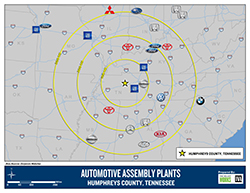 Manufacturing today is a high-tech endeavor that requires innovative ideas and the flexibility to use those innovations in both the product and the process. Combine the power of technology with our skilled and stable workforce, and you'll have a competitive advantage in a diversified market. That's why Tennessee is a high-tech hotbed, with some of the most sophisticated manufacturing facilities in the world located right here. Tennessee is the right place at the right time for your manufacturing needs. An ideal location, affordable cost of doing business and competitive wage mean a more efficient operation and increased revenues.
Chemicals, Plastics & Rubber
Tennessee-based businesses enjoy favorable access to water, large acreage sites, efficient and easily accessible transportation routes, practical and business-friendly zoning regulations, a mild climate, a skilled and dedicated workforce, and high concentration of raw materials. In 2016, Tennessee's exports of chemicals totaled over $4.2 billion, and exports of plastics and rubber products totaled over $718 million. Exports of chemicals since 2010 have grown by over $151 million, while exports of plastics and rubber products have increased by 17.13% percent. Humphreys County has several chemical companies: Chemours (DuPont), Prince Erachem, Inc., Oxychem and Rockwood Lithium. Nashville State, Waverly Campus, has special training programs for chemical operations.
Transportation, Distribution & Logistics
Tennessee's geographic location is at the heart of the U.S., so you can count on easy access to markets around the world. Our central location also means your business can connect to customers and suppliers faster. We're home to the busiest cargo airport in the western hemisphere. Not to mention, we have immediate access to eight interstate highways—reaching 60 percent of the U.S. population within an 11-hour drive or less. Humphreys County has the main CSX East-West line. The western border of Humphreys County is the Tennessee River that connects to the Tennessee-Tombigbee Waterway and the Port of Mobile. Tennessee also offers six Class 1 railroads and more than 1,000 miles of navigable waterways. When you consider these advantages, it's easy to understand why Area Development magazine named Tennessee the number one location for overall infrastructure and global access.
For more information, visit tnecd.com